Step 02 - Decide On Your Logo
You might think it is premature to decide on what your logo will look like when maybe you haven't even installed WordPress. But if you already have a business idea in mind, your logo is one of the first things to consider.
If your logo is to contain any colour (other than black, grey or white), then it will often inform the colours used on your website. In other words the colour scheme used in your logo might determine the colour scheme of your site.
You could easily come up with a simple text logo like the one I've used here on WordStamped, or you may pay for a logo to be designed or even design one yourself.
Logo Layouts
Whatever you decide to do, make sure you end up with the following versions of your logo. You will need all these versions for various venues such as social media platforms, letterheads, business cards and of course various locations on your website.
The logo in landscape layout in colour (if you're using colour)
The logo in landscape layout in black
The logo in landscape layout in white
The logo in square layout in colour (if you're using colour)
The logo in square layout in black
The logo in square layout in white
A favicon (a very simple symbol that alludes to your logo)
Logo Sizes
You may need all sorts of different sizes of logo for your various venues. For all I know, you might be planning to put your logo on the side of a car. However for the purposes of your website, you should make your logos approximately the following sizes.
Favicon - make this 150px x 150px
Square Logo - make this 250px x 250px
Landscape Logo - make this in two versions a larger one at about 280px wide and a smaller one at about 120px wide.
The dimensions I mentioned here are not exact - they are just to give you an idea. The png files you produce should be of high quality but the file size should not be great.
What Is A Favicon?
A favicon is the shorthand square symbol that pays homage to your actual logo. It will be used your website and browsers to help identify your individual pages to users.
If you look at at where this page is displayed you should see the "W" favicon I am using for WordStamped before the title of the page in the browser tab.
To create a favicon simple make an image that is around 150px square and upload to your site's media library. Make sure the symbol you use is very simple and easy to recognise when viewed at about 12px square.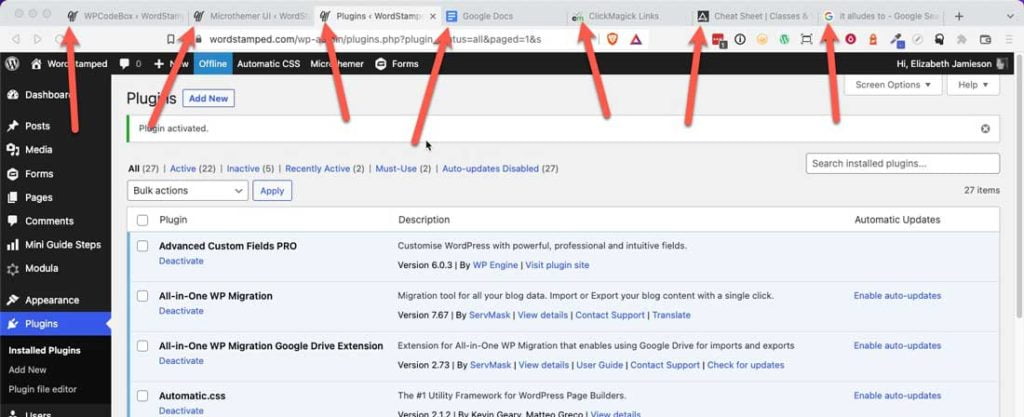 Other Steps In This Mini Guide